Any links on this page that lead to products on Amazon and other companies may be affiliate links and we earn a commission if you make a qualifying purchase. Thanks in advance for your support!
Have you ever dreamed of taking to the skies like a real pilot? Now you can with large RC planes, which move more realistically through the sky than smaller models. Embark on an adventure that will challenge your skills and provide you with an unforgettable experience.
But flying large RC aircraft is not for everyone. There are pros and cons, so read on to find out if large radio control airplanes are for you.
What is a Large RC Plane?
The Academy of Model Aeronautics (AMA) defines a large RC plane as over 55 pounds (25 kilos). However, Horizon Hobby and Top Flite, among other retailers, sell a range of ready-built models with wingspans over 80 inches that are called large RC planes. 
What are some of the world's biggest RC planes?
Below is a selection of the largest RC models in the world, many of which have been built from scratch, and require a lot of skill to assemble and to fly. However, there are easier ways for the novice flyer to get the controls of some impressive large RC aircraft. Read on below to find out how:
Firstly, here's a compilation of large RC giant-scale models on video (With acknowledgment to Essential RC):
Where can I get a Large RC Plane?
Large RC planes, up to 110 inches in wingspan, can be bought off the shelf as ARF (Almost Ready to Fly) finished models, or PNP (Plug and Play) with just the receiver, transmitter, transmitter battery, and onboard battery needed, and a small amount of assembly, or even as kits.
They're also available in a range of BNF (Bind n Fly) models, which involve even less preparation in that only a battery and transmitter are required.
Top Flite produces a stunning range of ARF and kits for giant-scale RC planes. They are, however, not for the beginner, as they all require a good knowledge of the components of an RC airplane, and how they fit together. However, they do offer an excellent route into larger scale models without all the hassle of building from scratch. Top Flite as a company doesn't seem to exist any longer, but its products are still available at some hobby shops. Here's a couple:
Fly Like a Fighter Pilot in the TopFlite Giant Scale Corsair ARF
I do like the TopFlite Giant Scale Corsair ARF. This giant scale RC plane boasts IMAA Legal size (86.5 inches), super-durable balsa and plywood construction, and MonoKote covering. It's not just about looks either— this beautiful bird is packed with features that make it great for beginners and experienced pilots alike. Enjoy features like dual servo aileron control, recessed gauges on the detailed instrument panel, tail wheel doors on reinforced mounts for landing gear, and an amazing 24oz gasoline tank!
But in my view what really sets this Corsair apart from other models is its realistic design. Every visible part looks exactly like one of those found in real fighter planes from World War II, from the molded-in panel lines to the painted fiberglass cowls with hidden mounting screws. Even better, it has minimal construction time, so you can take to the skies faster than ever before! With its unique combination of scale realism and performance potential, flying with the TopFlite Giant Scale Corsair ARF will make you feel like a genuine fighter pilot!
This beautiful plane is available from RC Hobbies Space.
Cessna 182 Skylane Giant Scale RC Plane
As an alternative to the warbird theme, I think the Cessna 182 Skylane 81″ wingspan Giant Scale RC Plane really fits the bill. With its true-to-scale details and built-in lighting system, it's realistic enough for even the most experienced flyer, but can still be flown by a beginner with a bit of experience.
The two-piece composite engine mount is constructed of balsa wood and plywood, and its white fiberglass wheel pants provide a stylish touch. This RC plane also features twin radio antennae on the wing and a Minokote covering that gives it an extra edge when soaring through the sky.
The Cessna 182 Skylane is one of the easiest RC planes to put together in just 15-20 hours with its one-piece wings and plywood joiner. This plane packs a punch, boasting realistic touches such as a separate receiver battery-powered MARS beacon light, polished aluminum spinner, three foam wheels, prebent wire nose gear, and 14-ounce fuel tank.
This large RC plane is available from Tower Hobbies.
Skymasterjets produce an excellent range of large scale ARF models, such as this 88 in wingspan A10:
Large Scale RC Planes in the UK
If you live in the UK, there are a number of retailers selling large RC planes. One is Al's Hobbies which sells a wide range of RC models, from beginners' to advanced. Here's one example of a huge RC scale model that can be bought off the shelf: The superb 95 in wingspan 1/4 scale Spitfire by Phoenix models: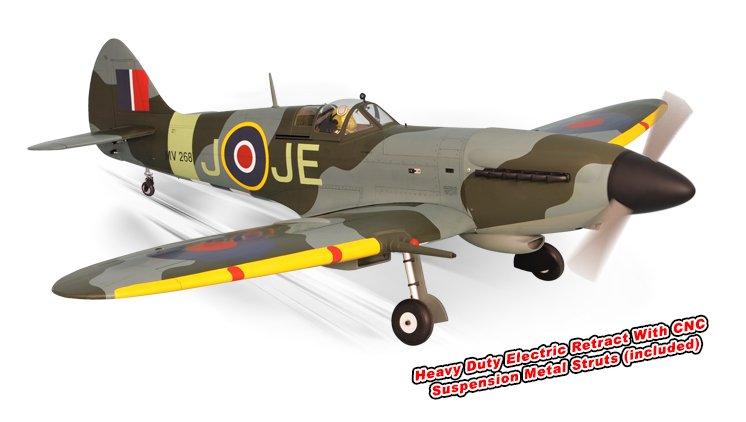 Large Scale RC Plane Kits
If you have the time, ability and patience, you might want to build up your large RC model from a kit. The Global Jet Club sells a fantastic range of large RC plane kits that would suit all levels of ability, such as this Feibao 1/7 scale F15: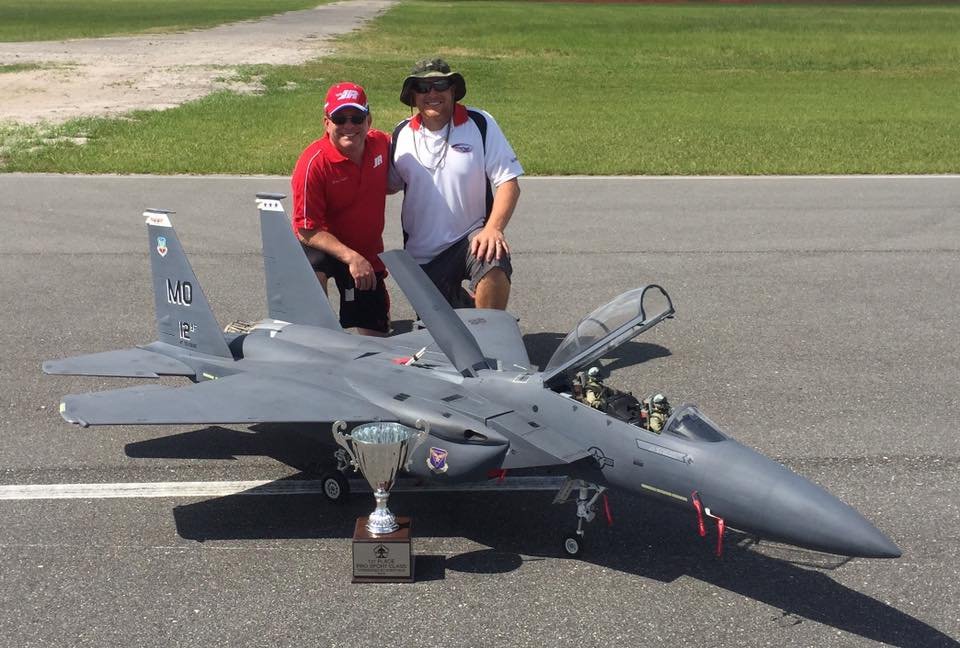 Advantages of Large, or Giant Scale RC planes
Large RC planes offer a number of advantages over smaller models.
Firstly, a giant-scale RC airplane is more stable in the air and can be flown in higher winds than smaller models. This makes them ideal for outdoor flying, as you don't have to worry about wind gusts affecting your plane's performance.
Secondly, the larger size of a giant scale RC airplane means that it can carry heavier payloads such as cameras or other equipment.
Finally, large RC planes tend to look more realistic when flying, which adds to the overall experience.
Disadvantages of Large, or Giant Scale RC planes
A large scale RC airplane also has some disadvantages that should be taken into consideration before purchasing one.
Firstly, they are more expensive than smaller models and require more maintenance. This means that they may not be suitable for those on a budget or who don't have the time to dedicate to upkeep.
Secondly, they require more space for storage and transportation, which can be an issue if you don't have a large enough vehicle or garage.
Thirdly, large-scale RC models using jet engines are often too big to utilize an Electric Ducted Fan (EDF) and tend to need more power, such as that produced by turbine engines. For more on EDF RC planes, go here.
Fourth, Large scale RC planes over 55 pounds need to be registered as an aircraft in the USA (FAA), the UK and Canada. However, that's pretty heavy, and the vast majority of the large RC planes bought off the shelf are well below this.
Finally, as they have extra weight and are less maneuverable than smaller models, they may not be suitable for those looking for an adrenaline-filled experience. If you're looking for fancy aerobatics, a larger remote control plane may not make an ideal 3D plane.
FAQ's
What is the world's largest RC airplane?
This is a difficult one to answer, as there is currently no Guinness Book of Records entry for the biggest RC planes. It could be argued that the military has the larger RC planes with its Reaper drones, or even former jet fighters converted to RC for target practice. 
However, within the hobby, there are giant-scale planes that are relatively very large. Giant, accurate-scale RC planes are almost commonplace on the airshow circuits. Models as large as 1:2.5 scale of real aircraft are built and flown, such as the BAE Hawk remote control airplane shown in the video below, which is an enormous RC plane and a beautiful model :
Equally impressive is this scale Flying Fortress:
One of the largest flown recently is an amazing non scale RC model, that was built to demonstrate the builders' capabilities.
Are bigger RC planes easier to fly?
When it comes to RC planes, bigger isn't always better. While a larger RC airplane may have more power and stability than smaller models, they can also be more difficult to fly. This is because larger planes require more skill and experience to operate safely.
The size of an RC airplane affects its maneuverability, speed, and range. Larger planes are typically slower and less agile.
If you are a novice, and fancy flying big, go for one that has an axis gyro system and stabilizer, such as the Xpilot stabilizer system installed.
Do I need a license to fly a large RC Airplane?
No, you do not need a license to fly a large scale RC airplane under 55 pounds. However, it is important to note that the rules and regulations governing the use of a large remote control airplane vary from country to country. In some countries, such as the United States, the UK and Canada there are certain restrictions on registering your radio controlled plane where and when you can fly it.
In the United States, Canada, and the UK, for example, all pilots must register their remote control plane if it's over 0.55 pounds (250 gms) and also take a test. In these three countries if the RC airplane is over 55 pounds (25 kilos) you will need to register it as a full-sized aircraft and obtain a registration number.
We have written more about the rules of flying a remote control plane, here.
How do I get into flying Large RC Airplanes?
The best way to learn to fly bigger RC airplane models is to become competent with smaller RC airplanes first. Mistakes in flying the latter will not be as expensive, and will stand you in good stead for the bigger beasts.
Once you feel confident to go up scale, you may wish to join the US RC flying association that specializes in bigger RC models, the International Miniature Aerobatic Club (IMAC)
IMAC does, however, concentrate on competitive aerobatic flying, so you may want to buddy up with a pilot in your local flying club who flies a bigger rc airplane to learn faster.
The Academy of Model Aeronautics (AMA) has a Large Model Airplane Program that sets out rules and regulations for flying large and giant RC airplanes in the US.
In the UK, the Large Model Association focusses on building and flying bigger scale RC models.
In Canada, your best bet is to join the Model Aeronautics Association of Canada MAAC, for information and support about flying large RC airplanes.
Conclusion
Overall, flying a large scale RC airplane is not for the faint-hearted and requires skill and dedication to fly successfully. If you think you have what it takes then go ahead and try a large scale RC plane, but make sure you've had at least a little experience on smaller, easier to fly RC aircraft, and look for a friendly expert to be on hand in case you need a bit of help.