Any links on this page that lead to products on Amazon and other companies may be affiliate links and we earn a commission if you make a qualifying purchase. Thanks in advance for your support!
Radio-Controlled (RC) planes are incredible fun but if you want to purchase a remote control airplane, it'll be helpful to know how much you can expect to spend. Rest assured, this is going to be far less than a real plane!
The average cost of beginner RC planes is between £150 and £200 in the UK. In the USA, RC trainer planes cost an average of $150 to $250. However, there are cheaper options at £50 and $70. There are also expensive RC planes with a price tag of 500 or more in $ or £, and for advanced pilots RC models can cost many thousands.
Though we know the average cost of purchasing a remote control airplane, there are different types of RC planes and additional costs for flying your plane. To help you get a better understanding of RC planes and their prices, let's look into this in detail and how to keep the cost of purchase and flying down.
How Much Does An RC Plane Cost?
So what affects the cost of RC planes in this great hobby of model aviation? This depends on various factors, including the country you buy from, brand, material, functionality, and size.
It also depends on whether you buy an off-the-shelf Ready To Fly (RTF) model or go for a kit, or even a scratch-built plane using widely available materials and detailed plans. If you have the ability, patience, and time, building your own RC plane from a kit or plans, and sourcing all of the components yourself can be much cheaper than buying off the shelf.
One thing to be aware of, as a beginner, is being tempted to buy an RTF remote control airplane that is unsuitable for your level of flying skill – that will simply result in an expensive crash and a huge amount of disappointment.
A common temptation in model aviation is to buy a mid-priced RC model based on a full-sized aircraft design, such as a wartime plane (a "warbird"), as it looks good, and flies fast but may be a challenge for a beginner to fly.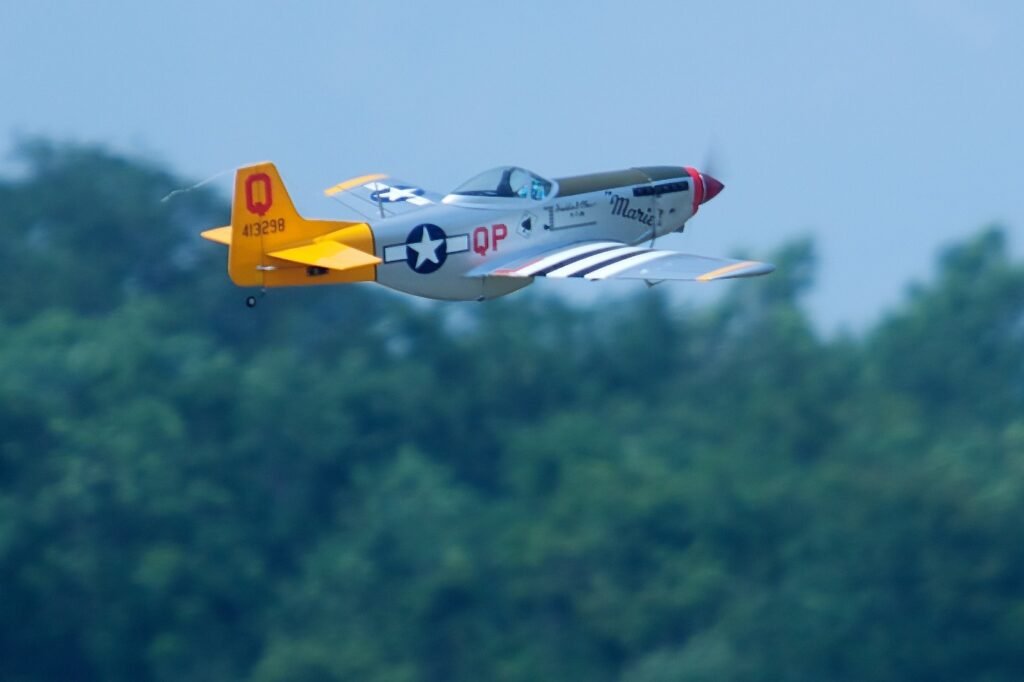 Functionality is an important element of cost. As a beginner, you may not need or want, some functions that may be only suitable for advanced flyers.
For example, some bigger models have flaps, which are useful for slowing the RC plane on landing and providing more stability at slower speeds. However, they're not necessary, increase the complexity of flying the model and add to the cost.
On the other hand, certain functions would be seen as essential for a beginner flyer now, but not necessarily for a more advanced pilot. For example, an automatic stability function, such as SAFE, is a boon to RC pilots just starting out. However, this functionality will add to the cost.
The material the remote control airplane is made of will influence the cost of the model. Cheaper aircraft are made of foam, while the more expensive planes will be made of more advanced materials such as carbon fiber. The latter has the advantages of weight and strength.
Check out our article on the best RTF remote control airplane for beginners to get the lowdown on what you should look for in a beginner's model. Slow and steady are the best ways to learn!
In the next sections, we'll look at the cost of purchasing an RC plane in both the United Kingdom (UK) and the United States of America (USA).
How Much Does An RC Plane Cost in the UK? 
Cheaper RC Plane
The cheapest RC trainer plane for beginners in the UK is between £50 to £60. However, some models cost as little as £40, though they are unlikely to last for a long time and can be more challenging to control.
An example of a £50-£60 RC plane is the Trainstar Mini by Volantex. It's a mini RC plane made with a lightweight material that is relatively easy to operate. It has a 2.4Ghz radio control system, a 6 channel remote control, and a wingspan of 400mm. Like many trainer planes, it is easy to fly, and you don't need to assemble it yourself. More details can be seen here.
Another trainer plane with good feedback is the Top Race 3 channel RC plane currently priced at £65. You can see more details on this plane here.
RC Plane with an Average Price
A more expensive RC plane  – probably considered a mid-range cost – is the Hobbyzone Sport Cub S. This is currently priced at around £176.
The Hobbyzone Sport Cub S RC airplane is more sophisticated than the Top Race radio-controlled aircraft mentioned above. It has SAFE technology, which is a boon for beginners and more experienced pilots alike, allowing the pilot to carry out aerobatic maneuvers. As described above, it enables the pilot to choose how much stabilization is required, depending on the level of expertise in flying.
You can buy this RC airplane with everything you need to fly, including a 2. 4GHz DSMX spectrum radio system, 150 mAh, 3rd 7 V lipo battery, and USB charger.
More details can be found here.
Higher Priced RC Planes
If you want to spend more on your RC model, the sky's the limit. You could end up spending thousands of £ or $ on a large accurately scaled model. 
One of the highest-priced off-the-shelf models we found currently available is one of the biggest RC planes, the HSD Jets Boeing 747 PNP (Plug and play, meaning you still have to supply and fit a transmitter and receiver). This cost an eye-watering £4,000 plus.
How Much Does An RC Plane Cost? (USA)
Cheaper RC Plane
In the USA, you can find beginner rc planes at around $70, with one example being the Duet RTF. It is approximately 523mm, lightweight, and durable, thus preventing a lot of damage in case of a crash. It has a flight time of around 10 minutes, and it doesn't require you to assemble it yourself.
RC Plane With an Average Price
In contrast, the E-Flite Apprentice is a more expensive remote control airplane trainer in the USA, and can be found for around $399 currently, but prices will vary.
It is one of the easiest models on the market to fly, which is excellent for beginners as it incorporates SAFE technology (Sensor Assisted Flight Envelope). The E-Flite Apprentice is easy to assemble and has a large wingspan of 59 in. 
Higher Priced RC Planes
You can get a remote control airplane that can cost considerably more than this. An example of a higher-priced model is the QAQQVQ A10 jet, based on a full-sized aircraft design, which is currently priced at $2,214 in shops. 
Why Are RC Planes So Expensive?
A remote control airplane can be expensive if you purchase from more well-known brands and want better parts, a longer flying time, and a longer-lasting battery that comes with the aircraft, which applies to all types of RC planes.
However, there are still cheaper options in both the UK and the USA RC plane market.
If you want to purchase a good quality RC aircraft without breaking the bank, there are plenty of different options that are great for flying. Moreover, there are occasionally discounts for specific brands, thus driving down the cost of purchasing an RC aircraft.
A used remote control airplane could be bought from your local club or online via an auction site. Beginner pilots would be best to get advice on what to buy from their local model aircraft clubs or from one of the many hobby shops.
What Does Flying Radio Control Planes Cost?
Don't forget that it's not only the cost of the RC plane that you'll have to think about. There are other costs involved in this hobby. 
As a novice pilot, you'd be well advised to buy an RTF plane, so that your additional costs are as few as possible. If you're a more experienced RC pilot, you'll have more confidence in buying the components to fly an RC plane separately. 
Nevertheless, beginner pilots will have other costs to think about. These include:
Fuel / Battery Costs
If you're starting out in model aviation, you're likely to look for an electric plane – whether it's propeller-driven or an EDF (Electric Ducted Fan) jet. Your only fuel costs in these cases will be the electric charge associated with the LiPo batteries in the plane, and the batteries (usually AA's) in the transmitter.
Batteries are usually replaced once a year if you fly regularly as the battery life is limited, or you may have to supplement the battery pack you have so that you can fly for longer without recharging. These cost upwards of £25 or $35, depending on the power. More details are here.
The Volatext Trainstar Mini has a 180mAh Li-Po battery pack with a voltage of 3.7. It can cost around £9 or $15 for two units, which isn't too expensive. However, you would expect it since it is a cheaper RC airplane.
For the more expensive Habu STS, the brand recommends a 3S or 4S 4000mAh battery pack. A 4000mAh 4S Smart LiPo battery with a voltage of 14.8 costs around £60 or $80. One with lower voltage costs around £40 or $55, and while it costs much less, it is still expensive. 
A more advanced RC airplane will be powered by IC (internal combustion) engines that use either nitromethane (glow plug) or petrol/gas and have a fuel tank on board. You will, in these cases, have to buy a supply of such fuel. A typical cost for this fuel is around $66 for a gallon, details of which can be found here.
Maintenance Costs
For the lower-cost RC planes, maintenance costs will be minimum, unless, of course, if you have an accident. Modern foam-made RC planes are designed to absorb a substantial amount of rough treatment before a repair is necessary.
However, one component that might need replacing regularly is the propeller in a propeller-driven RC plane. Beginner and trainer planes often come with spares, but in any event, the cost is not great. For example, a set of 3 props would set you back around $12 or £12.
Registration Fees
In the UK, you'll not need to register your RC plane, or drone with the Civil Aviation Authority (the CAA), if it weighs less than 250 gms. Over that weight, you will need to take an online theory test, which is free, and register the plane or drone at a cost of £10 per year.
In the US, you must take the Recreational UAS Safety Test, which is free. Registration of your aircraft with the Federal Aviation Administration costs $5 per year. Ignoring this may put you in breach of Federal aviation law.
Insurance
We've written about insurance for your RC aircraft here, but in essence Drone and model aircraft insurance can be obtained in the USA for anything from $5 per flying hour up to $350 per year, including liability and hull insurance.
It's probably a question of how much your plane costs in the first place. A £100 or $100 plane is unlikely to be worth insuring for accidental damage. But a $1000 model might be.
However, check out your house insurance, as that may cover your flying.
Also, if you are a member of the Academy of Model Aeronautics, the joining fee of $75 provides you with liability insurance of up to $2.5m.
In the UK, membership of the British Model Flying Association, which currently costs £30 per year, provides liability insurance cover of £25m and is well worth it. 
Club Fees
You may have a private field in which to fly, so you may not want or need to join a local model flying club.
However, most of us don't have access to a suitable area to fly, so we don't have a choice. Also, joining a club has other benefits, such as getting much-needed advice and training as a beginner, and there are also social aspects.
In the US, club membership fees are often between $60 and $100.
In the UK, the costs are between £50 and £80 annually. My local club charges £70.
Training
Initially, you may want to get some help at your local club, which should be free. To supplement that, you might want to buy a specialist flight simulator for use on your home PC. 
An example of this is the RealFlight 9.5 RC Flight Simulator which can be bought with or without the controller.
There is a choice of flight sims, but as a beginner, I was convinced that the RealFlight sim is currently the best on the market, not least of all because it features most if not all, the planes sold by Horizon Hobby. You may well have bought one of these planes.
The RealFlight sim can be bought for around $190 (£212) at various outlets at the time of writing. You can see more details and the current price of this sim here.
Here are the range of costs summarised:
Summary of Costs
| | | |
| --- | --- | --- |
| Item | Cost (Dollars) | Cost (Pounds sterling) |
| RC Airplane | $70 – 2,000 | £40 – 4,000 |
| Batteries | $15 – 80 | £9 – 60 |
| IC Fuel | $66/gallon | £30/2.5 liters |
| Maintenance (propellers) | $12 | £12 |
| Registration Fees | $5 | £10 |
| Insurance (Hull) | $100 | £100 |
| Insurance (liability) | join the AMA (see below) | join the BMFA (see below) |
| National club fees | Academy of Model Aeronautics $75 | British Model Flying Assoc $30 |
| Local club fees | $60 – 100 | £50 – 80 |
| Training Sim | $190 | £210 |
All costs are estimates and depend on the detailed product or service chosen
Keeping the Costs Down
To lower the cost of purchasing an RC plane, the simplest thing you could do would be to buy a cheaper aircraft. However, this can get you a smaller and lower-quality plane. You will need to conduct research into the different types of RC planes and select one that matches your budget.
Another method of keeping costs down would be to purchase the plane and any additional parts directly from the brand. While this may not work for all brands, it can cost much less to buy components from the actual manufacturer instead of a 3rd party.
Another way of keeping costs down is to buy a used plane from another enthusiast. You may find a used bargain, suitable for your level of expertise, being sold by a member of your flying club. This would have the added advantage of knowing the history of the plane and avoiding buying one that had been in an accident.
Conclusion
In conclusion, the answer to 'How Much Does An RC Plane Cost?' depends on what type you get. Many different factors come into play when it comes to the cost of purchasing and running an RC plane. If you plan to buy one, use the guide above to learn how to keep costs down.