Any links on this page that lead to products on Amazon and other companies may be affiliate links and we earn a commission if you make a qualifying purchase. Thanks in advance for your support!
I have often admired the quiet, graceful way radio control sailboats glide across the water at my local pond, using only wind power. So much so that I decided to find out more, and I did a lot of digging into RC sailboats for beginners, and what I should buy. Here's the result of my research – I hope it helps you!
RC Sailboats For Beginners – Top Picks
It's difficult to conclude which sailboat might be best for beginners, as it all depends on how serious you want to take the hobby, and in particular whether you'll want to race it eventually.
One good way of approaching this is to join a club (US) (UK) and get to chat with other members about their experiences. However, if you're not the joining type, or just want to get on to your local pond as quickly as possible, here's a selection of RC sailboats you might like.
We've scoured the web for advice on club sites and forums to back up our choices, so you shouldn't be disappointed. As a beginner, you'll probably want to choose a boat that is ready to sail (RTS), with very little, if anything, to do before getting out onto the water. Avoid boats that require a lot of assembly, save for inserting the main sail and batteries.
So, if you're short of time, here's the top pick 3 RC sailboats for beginners we've found:
Any recommendations we make are always based on either products we already own and use, or are carefully assessed in terms of their attributes and user feedback – criteria we use ourselves whenever we buy. Where products sold by Amazon are suggested, they will have the following criteria at the time of writing, unless there are no alternatives available:
Minimum of 4 stars
No more than 10% of all reviews are 1 or 2 stars
The product has a minimum of 100 reviews
We also highly rate products that have free shipping or are sold through Amazon Prime.
Top Picks Table
The Volantex V791-1 Review
What Do I Need To Consider In Choosing an RC Sailboat For Beginners?
Look out for a ready to sail (RTS) or even a Ready to Race (RTR) model. Go for a model which has everything included (probably apart from the AA batteries for the transmitter – some beginners' models even has these!)
Check out your local club, to see what they sail there. That way, you'll get advice on what to buy, and consider a boat which others in the club race. It's much more fun if you can participate in club racing. Find where your nearest club is by talking to your local hobby shop, or by contacting the American Model Yachting Association here or the Model Yachting Association in the UK, here.
If you feel particularly ambitious, you could consider buying an RC sailboat kit. More about that here.
How Do RC Sailboats Work?
A radio controlled sailboat is one that can be sailed and controlled remotely with radio control equipment to monitor and chart its course. You can find easy, ready-to-use sailboats available, pre-built to include a radio, along with other receivers and servos, an electric motor, and all the other fittings and accessories needed. 
The transmitter, the thing you hold in your hands as your boat is sailing, usually operates on a 2.4 GHz frequency, and either has a wheel-like controller to control the boat's steering or a couple of sticks that control the steering and the position of the sails.
A common setup involves 2 channels – one for the rudder control, and the other for the sails. The right stick moves left or right, and usually controls the rudder (making the boat go left or right), whilst the left stick, moving up and down, controls the sails (moving them in, or out).
The transmitter sends a signal to a receiver in the boat; depending on the type of signal (ie whether it is a steering command, or a sail command) to tell onboard batteries (usually Ni-MH or Li-Po type) to power a servo (ie something which translates an electrical signal into a mechanical signal) to move either the rudder left or right, or the sails in or out.
Whilst purists may consider a radio controlled sailboat should use only wind power, rather than electric to move it through the water, some do have the benefit of having an electric motor, either as a backup for when the boat is becalmed or for those tricky maneuvers when bringing it back to the pontoon.
The electric motor, connected to the shaft that runs towards the back of the boat  is usually at the front end of the boat. It also happens to contain a grease-filled stuffing tube that is used to provide lubrication as well as to prevent water from entering into the hull.
The propeller is usually to be found at the end of the shaft.
All the sensitive electronic equipment in the boat is protected by waterproof membranes or casings, for obvious reasons.
What Are The Main Components of an RC Sailboat?
Batteries – The Power Source
Most model RC sailboats for beginners come with built in nickel-metal hydride (Ni-MH) batteries, although some also come with the costlier, more powerful Lithium Polymer (Li-Po) batteries. Lithium Polymer batteries are lighter as well and have a high capacity, which makes them ideal for longer runs. To learn more about batteries for rc models, click here.
Lead Acid batteries are used in larger models, and use the weight for ballast to deliver a clean source of power. 
The Radio Control System
The most common type of Transmitter for RC sailboats are the stick-type transmitters that allow for easy use and control over the sails and rudder. The Transmitter is held in your hands, and is usually set on a common frequency, such as 2.4 Mhz.
The Receiver, which is positioned inside the hull of the remote control boat,  is the part that is responsible for converting radio signals from the transmitter to an electric signal used to control the rudder and sails.
A Servo switch converts electrical energy into mechanical energy. In beginner radio control sailboats one servo moves the rudder, and another is the sail servo.
The Motor
There are usually two popular choices of electric motors used in RC Sailboats. The first is a brushless motor that is known to give high speed but poor low end speed control. If you do have a brushless motor, it is generally recommended that a matched pair of motor and electronic speed controls be bought.
The second, the brushed motors, have good low end control and are available from low speed, high torque to high speed, lower torque.
Shafts and Universals
Flexible shafts are often used in racing RC sailboats, but need to be carefully picked in accordance to size and mounting configuration in the hull.
How Do I Sail A Remote Control Sailboat?
Here's a brief, step-by-step of how to work RC sailboats for beginners. For a more detailed step by step guide on sailing an RC sailboat, click here.
Clean and tension the rigging whilst it's on its cradle (A lot of model beginner rc sailboats are sold with a cradle to make it easier to work on the boat whilst it's out of the water, or they are available separately).
Ensure the battery or batteries are charged and check the functioning of the radio control equipment.
Check the wind and the direction it is blowing. RC sailboats are usually pretty light in weight so you will need to watch out for whether your sailboat can withstand the winds prevailing at the time.
Equally, watch out for conditions which are too calm – this can be very frustrating as the boat languishes becalmed!
Avoid river sailing when you're a beginner – the currents may be strong and make control difficult.
Also avoid ponds, lakes, and bodies of water with a lot of vegetation – both seen (on the surface) and unseen (under the surface). Weeds may catch the keel and or rudder, stranding the RC yacht out of reach.
Never sail near swimmers, bathers, and people fishing, particularly if you're still learning to control it properly.
Your boat will have to sail upwind when you set it off from the dock. Just place it in the water, turn the bow slightly away from the side of the pond or pier and tighten the sails acting on the left joystick, allowing the wind to power the sails and propel the sailboat forward.
You can always stop the sailboat by tuning the bow into the wind and letting go of the sails control line to release the wind pressure off of the sails and pull the boat to a halt.
To return, make sure your sailboat is sailing windward (ie into the wind). As the boat nears the pier, release the sails to reduce the boat's speed.
The more experience you get of sailing an RC sailboat, the more you'll enjoy it. I was told to just do it – the more mistakes you make the better – and sooner –  you'll learn.
The popularity of this amazing hobby means you're never alone unless you want to be. RC sailing clubs are great places for newbies and experienced RC skippers alike.
Knowing how to control the boat in different conditions is where the real skill comes in. It's all about timing and precision. And the better you get as an RC sailor, the more enjoyable the experience.
Is It Hard to Sail RC Sailboats For Beginners?
With a steady hand, practice and a good and thorough knowledge of the ins and outs of how it works, there is no reason why, with a few days of hard training, preferably from an expert, a beginner shouldn't get the hang of sailing one.
Where Can I Race a Radio Control Sailboat?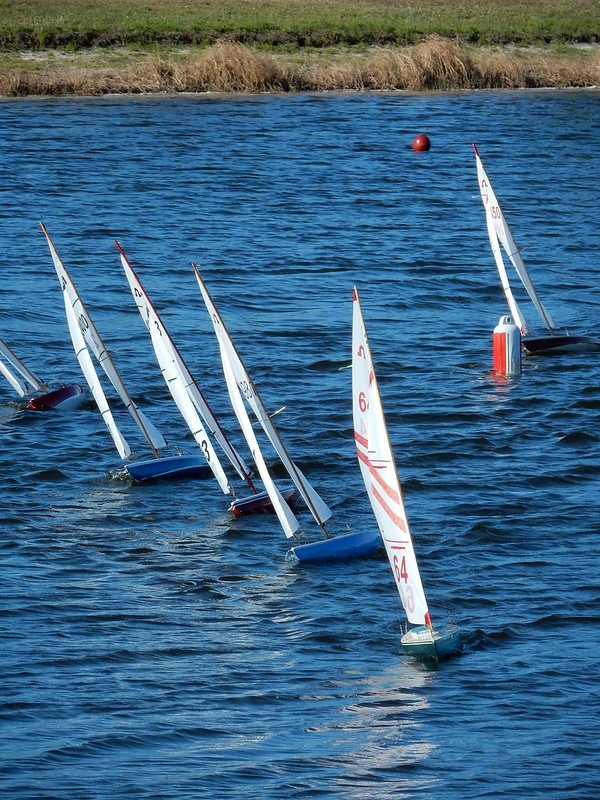 As a beginner, you may want to get familiar with the general aspects of rc sailing before entering races. Nevertheless, racing rc sailboats is an exciting hobby, and will no doubt provide a sociable way of testing your skills.
The best way to further this aspect of the hobby is to join a club, details of which will be held with your local hobby shop, or check out a local club near you. You'll find lots of help finding a club, as well as sailing your boat, at the American Model Yachting Association and the Model Yachting Association in the UK.
The official body overseeing RC sailboat racing internationally is the International Radio Sailing Association.
Once you get into it, racing provides a set of rigorous rules to sail by. There are specific classes of racing boats, generally denoted by a short letter/number combination. For example, the EC R12M class is found predominantly in the USA, EC standing for East Coast, with a hull length of between 58 and 60 in.
Other classes include the R1M, which requires hulls of 1 m in length. A good example of this is the Robbe Windstar.
Some clubs organize races for particular models, such as the Kyosho Fairwind.
A common racing standard is the Dragonforce 65 class. This type of boat is readily available and ready to sail. See the table above. Here's a short video showing some exciting DF65 racing:
How Do I Get Started with Radio Control Sailboats?
Your best bet when starting out, as I found, is to look for a local club, and join it. That way you'll get lots of advice which will probably save you hundreds of dollars in the long run.
If you're not the joining type, head over to your nearest pond, lake or resevoir and see if there are rc sailors on the water, and if so get talking to them. They'll certainly be enthusiastic and willing to help.
If you want to find out more about choosing the best RC sailboat, head over to this article.
image credit: Isles Yacht Club