Every year, hundreds of Radio Control (RC) car racing events take place around the world, whether organized amongst friends or by RC car associations and clubs. With so many people—and their RC cars—involved, these events raise the question of what exactly is required of these racers. If you're a racer, do you need a license to race RC cars?
No, you don't need a license to race RC cars, but you may need to get a license for an organized race meet. That does not mean you can race legally everywhere, however. You may want to take a look at your city's or municipality's by-laws for more details as to whether you are breaking any laws.
You'll also want to keep in mind noise/nuisance laws. You probably won't be able to race in public parks and will have to look for lots of land that are out of the way of the general public.
This answer applies to the US, but also extends to places such as Canada, the UK, and Australia.
Keep reading for some tips on keeping within the confines of the law:
---
Do you want to make your rc car faster? Read how to easily do it here.
---
Do I need a License To Race RC Cars In The US & Canada?
Well, you don't need a national license to drive a radio control car – like you would a full size car – whether you're racing it or not. However, you may need a license from individual organisations which oversee organized rc car racing events in the US.
If you want to take part in an organized racing event, racing against model racing cars similar in specification to your own, you will need to join a local club (or set up your own – see below).
If you do join a local club in the US and Canada, it is likely to be associated with the following organizations:
The Quarter Scale Auto Club
The Quarter Scale Auto Club (QSAC) requires a "one day floating license" to register for a one-time, one day, license to try a quarter scale car at a QSAC sanctioned facility. For a link, see link 2 at the end of this article.
A Single Event License with the QSAC is currently $15.00, with full membership costing $30.00, with a Mechanic License costing $19.00.
If your model is not quarter scale, you may well want to take a look at ROAR, which caters for a wide range of model types.
Remotely Operated Auto Racers
The ROAR (Remotely Operated Auto Racers) organisation is the National non-profit corporation organized to promote the sport of radio controlled model car racing. ROAR has 200 clubs in the US and Canada, and is the North American representative to the International Federation of Model Car Racing (IFMAR).
Currently it costs $35 for membership of ROAR, which includes liability insurance just in case your racing ends up injuring someone or damaging others' properties. Link 3 below leads to the ROAR homepage.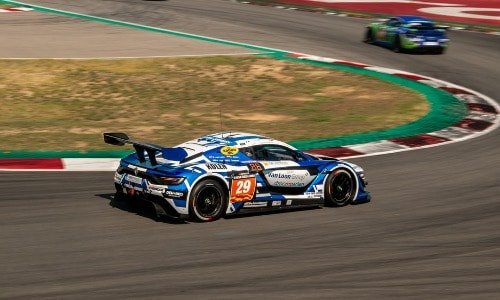 ROAR requires drivers to abide by the very comprehensive rules for each category of racing, and for each racing event an entry form, but no license per say.
Where Do I Need A License To Race RC Cars in the UK?
The British Radio Control Car Association
In the UK you will need a British Radio Control Car Association (BRCA) License to race remote control cars at BRCA and BRCA sanctioned events. Some tracks may let you race a couple of times without a license, but it will be worth you getting one if you are going to be racing regularly.
A license to race at the BRCA events will come automatically with BRCA membership, which at the time of writing is £20 per year. Other benefits include third party insurance of £10 m.
To find out more about the BRCA, click link 1 at the end of this article.
Elsewhere in the UK, you won't need a license to race, but you'll need to be careful where you race to avoid getting into trouble with the authorities.
Can I Get Into Trouble Racing RC Cars?
If you're racing at a club organised and sanctioned event, as explained above, you will be fine as long as you obey their rules. However, once you stray off the official tracks you have to be a little more careful, and do a bit of research.
In the US, there are no specific national laws dictating where RC cars can be raced and what is required. This means that States approach the matter differently.
Even so, there might be no laws or by-laws present in your city or town. You might find that there is no information as to whether or not it is allowed, and the only time you find out is when stopped by the police.
Because the regulations are vague or there is a lack of regulations, there is a possibility that you will be told to stop and move on/leave. There might not be a law saying it is illegal, but there is no law saying it is legal either.
This grey area means you can't defend yourself properly. Should you try to disobey, you could face further problems, i.e. a failure to obey a charge or similar.
While Canada and the UK also do not have national laws concerning racing RC cars, again, look into the laws where you are located. For example, in Calgary it is illegal to drive your RC car in a city park—so drive it elsewhere. In Mississauga, Ontario, you can only drive your RC car in a park between 7 am and 7 pm. There is no mention of racing specifically in these cases.
If the race is between you and a friend and the noise is kept to a minimum, you are less likely to attract unwanted attention, and ultimately get stopped.
Noise/Nuisance Laws
The noise level of RC car racing is probably the main concern. In most cases, as long as you are keeping out of the way, people and officials will only glance at your race with a healthy curiosity. But if your race is creating too much noise, someone may complain. Once that happens and your activity is deemed as disrupting the peace, you will most likely have to stop.
In this case, it is no longer about the racing itself. Think of it like your neighbors having a party. Having a party is not illegal, but once there is a noise complaint about it, it has to be shut down.
One way to get around the noise is by selecting an electric RC car instead of a petrol/nitro RC car. The electric car will make less noise, and you will be able to enjoy your race with fewer interruptions.
So Where Can I Race RC Cars Outside Official Tracks?
Your Own Property
If you are lucky enough to have a very large yard or garden, or a private lot or field, or even a very large garage, you can do as you wish on your own land, and you won't need a license.
Not only will your costs be lower, you'll have full control over the layout of the track, and you'll be able to experiment with track length and shape to your heart's content. You'll be able to utilize any materials which might be at hand – eg worn out fire hose (try your local fire department) or discarded plastic guttering to mark out the course.
However, it is important to still keep in mind noise levels so as not to disturb your neighbors.
Someone Else's Property
If you can get a landowner's permission to use their land or warehouse building for racing rc cars you should not be concerned about any licensing requirements. On private land, subject to the noise issue, again, you will be able to race to your heart's content.
Even better, if you could use, with permission, farmland or a site in the countryside, noise may well not be an issue.
Clearly, this may be a more expensive route to racing rc cars, as you may have to rent the land or space, but if it's an informal arrangement it may be acceptable.
Start Your Own Club
Starting a club is a good way to bring hobbyists together—and renting the land or an indoor facility is a good way to keep officials off your back. In most cases, by renting, you will be assured that there are no uninvited guests that will make a complaint. It becomes an official, acknowledged event.
You will also likely be renting private property, which means the laws for public spaces—such as parks—do not apply. Sometimes, you can even rent parks for private events!
Additionally, by starting a club, you will have the opportunity to become associated with a national organization such as ROAR, mentioned above, and to utilize their structured approach to racing rc cars.
However, it could involve a lot of work and dedication, and you may find that you are doing more administration than racing! Depending on the location, you may still have to pay attention to noise/disturbance laws.
Some more advice about starting your own rc car club can be found at Link 4, below.
Out Of The Way Public Spaces
Think of forests or flatlands that are public but far enough away from the city or general public that you will be left undisturbed, without disturbing anyone.
Make sure you read any local rules and regulations – such as the National Park rules – and you will have to be careful to avoid public attention, or else you may be visited by the local police or Park rangers.
If you're at all unsure where to race rc cars, try to find a local club within a reasonable travel distance – that way you won't have to worry about it at all.
As RC racing becomes more popular, the laws and regulations in your town could change, so make sure to keep up to date with any updates that might affect your racing. If you do end up needing a license in the future, you probably don't want to get caught without one!